Dining
We want to pamper you. The best start to a successful day: a hearty breakfast at the buffet. Spread over two spacious restaurants, the usual hustle and bustle at the buffet relaxes. Fresh sliced fruit, a large muesli selection, Allgäu cheese and ham, a large selection of bread rolls. The egg dishes are of course freshly prepared.

Upon reservation, we offer a half-board menu. The rest days of the restaurant vary according to the season. With love to the product and dedication to cooking, we want to pamper you. What is nicer than eating and enjoying? Discreet music in the background, nice table talk. On warm summer evenings, the beer on the terrace tastes particularly good. Since you can already like to crochet.

Unfortunately, we can hardly take into account food intolerances in half-board and in vacation packages. We kindly ask you to contact us in advance in such a case. Unfortunately, we do not have a vegan diet on offer (with vegetarian cuisine on request). For our rest days we are happy to speak a nice restaurant recommendation in the village. Oberstaufen has some nice places that are a must.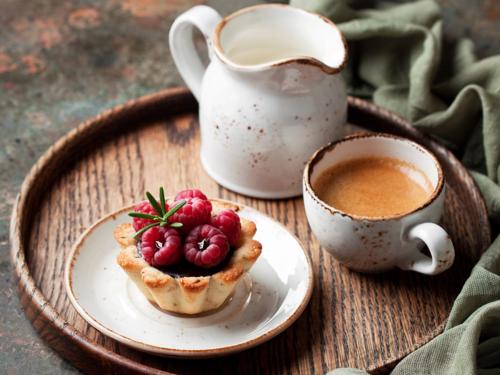 Everyone loves it! Until the early evening at 18.00 you are welcome to use the coffee machine.

You are cordially invited.
We also love her - the coffee break. And what is more comfortable than to make yourself comfortable after a wonderful winter walk in the fresh air in the lobby. Close to the fire, feet up on the stool and a good book in hand. Then it's relaxed in the spa.
And if you do not like the evening out, just order a tarte flambée in front of the fireplace. It can not be more relaxed.